HI!!  I'm Kristel and welcome Blooming Happy!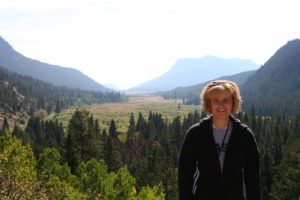 A little over two years ago we (my roommate & I) built a new home, the whole process from sketching out the floor plan to picking paint colors was so much fun.  And then we got to decorate!!   Yippie!!
Then I realized there were so many blank walls, décor was more expensive than I wanted it to be, yet there were so many opportunities. While a lot of projects are done, there are still many to do, and more I keep finding I want to try.  I hope the blog gives you some inspiration, and you can help keep us on track and accountable!
A little about myself first, things I love …
Lists – they provide me a sense of order & control (carryover from my previous life, I used to be an accountant)
Crafting – making signs and journals, anything with maps, scrapbooking, playing with my Cricut machine (in the accounting world, creativity is not considered a gift)
Organizing – I believe everything has its place and should be there (and probably labeled 😊)
Traveling – National Parks are my favorite destinations
My puppies- 2 Yorkies, they're pretty much the cutest things ever!
Football – Go Pack Go! and Go Big Red!
Photography & Home Décor
Gardening & Flowers
And last but not least, my favorite food, TACOS! So Yummy!!
As you can see I have WAY too many interests and hobbies!  I'm excited to share with you some quick, inexpensive craft projects and affordable ideas to add to your home décor.  My tips & tricks on organizing your home, and some DIY projects to do around the house.
I LOVE my home, and I want you to love yours too.  I love it so much I decided I wanted to work from home.  Starting the blog and Etsy store has been a jump into the unknown, but so far, so much fun!  Join me on this journey, I hope I inspire you to create the home, and life, of your dreams too.
I'd love to hear from you, let me know what you like, aren't a fan of, or want to see more of.  And thank you for joining me!